I just received my newest certificate, this time for the All Countries 15 Zone Award (AC15Z). The Polish Amateur Radio Union (PZK) is the sponsor of the award.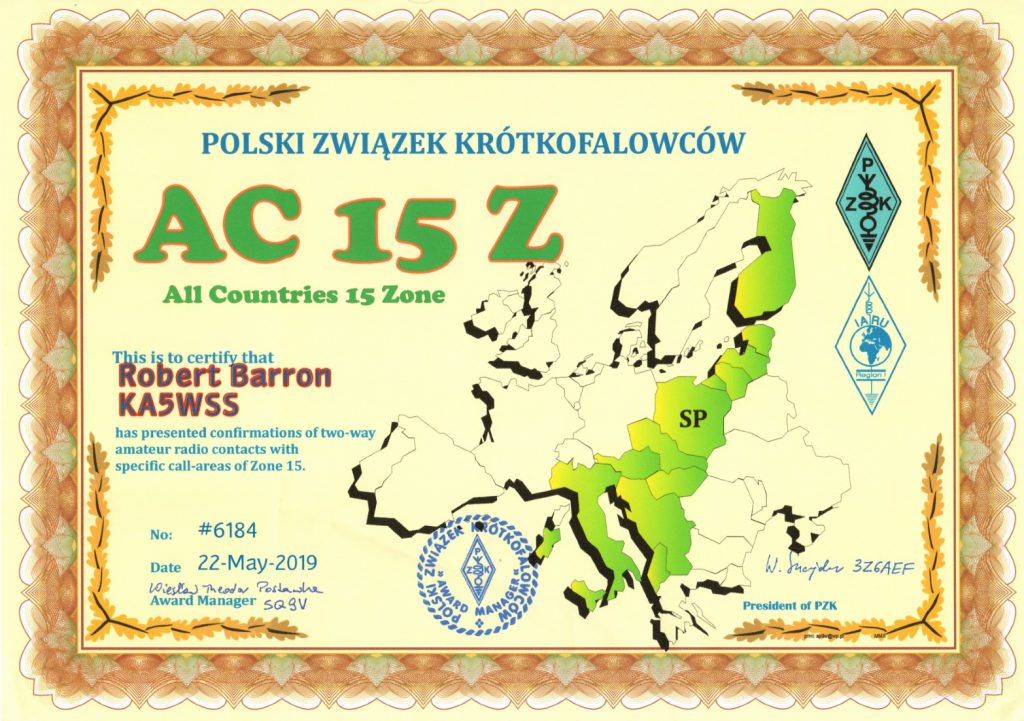 Poland lies with the 15th CQ Zone, which is termed the "central European zone". As the name implies, to earn the award one must make a number of contacts with different countries that also lie in the same zone. Some countries are divided up into separate areas so technically one must work 23 countries/areas out of a total 31 possibilities. Contacts with 4 call areas of Poland are required.
| | | | | |
| --- | --- | --- | --- | --- |
| 1A0 | 4O | 9A | 9H | E7 |
| ES | HA | HV | I | IS |
| LY | OE (2 areas) | OH0 | OH (3 areas) | OJ0 |
| OK | OM | S5 | SP (4 areas) | T7 |
| UA2 | YL | YU | Z3 | ZA |
There are no separate award classes or endorsements.
A handy application form for all of their awards is available on PZK's website. Applicants do not need to send in QSL cards with the application. Instead, getting two Hams to verify the log data and signing the application (GCR rules) will suffice.
The certificate includes a map highlighting the countries that lie within CQ Zone 15. I've always been a fan of maps on certificates. An intricate border pattern frames the contents. It appears the certificate is even signed by hand. Both SQ9V (the PZK award manager) and 3Z6AEF (the PZK President!) affixed their signature.
My award arrived in a well protected envelope with plenty of stiff cardboard to keep it from being bent. I appreciated the care taken to keep it safe.
As of 2019 the fee for the award is a reasonable $7.00. Separate fees apply for Polish Hams depending upon their affiliation with PZK.
PZK sponsors a number of other awards which have piqued my interest. So it looks like I'll be working with them again in the future.