Certificates are the awards of Amateur Radio contesting. Many Hams around the world dedicate large amounts of money and time building up stations and operating skills to take on their competition and win. But there are plenty of opportunities for participants of all levels to take part and compete against similarly equipped stations nearer to them. You might be surprised how easy it can be to earn some wallpaper.
The ARRL hosts a number of popular contests that cover a variety of activities from VHF/UHF to national and international HF events. After sending in your score and seeing the results there's no need to request a paper certificate for your accomplishment – just hop online.
Go to the certificates page on contests.arrl.org, type in your callsign and press "Go". The result is a list of certificates on which your callsign appears (not just efforts from your home station) that can be downloaded and printed. Versions are available in PDF or JPEG format. I think the PDF format prints a bit more cleanly than JPEG whereas JPEG is ideal for use on websites, such as here.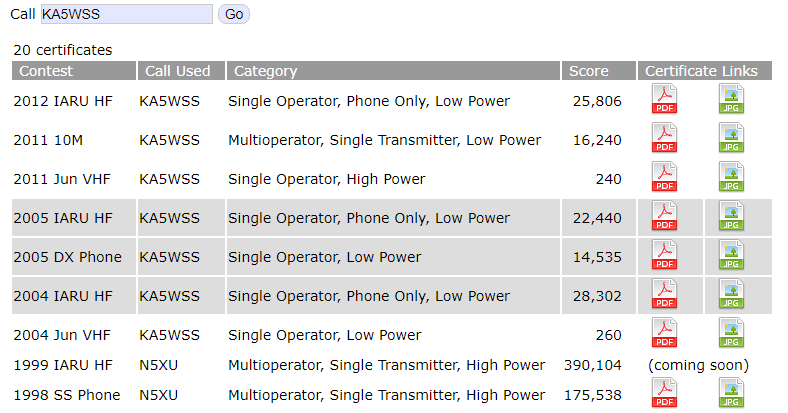 Think you don't have the station required to earn a certificate? Think again. Note that list snippet above. My score for the 2011 June VHF Contest was a whopping 240 points. That's it. But that was enough for 7th place in the South Texas Section.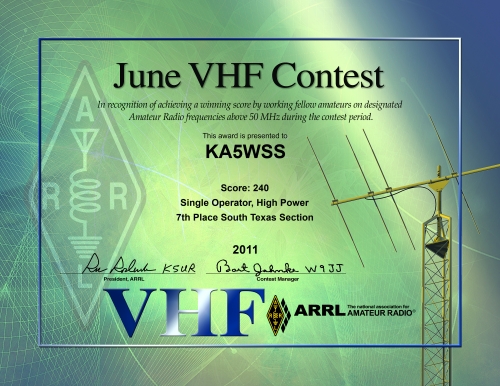 Yeah, that's nothing to brag about, unless your closest Ham buddy came in 8th. It is something to use as a anchor to spur you into a more concerted effort in next year's contest. How hard could it be to have moved from 7th to 6th in 2012? Probably not that much.
So go see what you've already earned in the past and commit yourself, despite the horrible propagation conditions lately, to submit your logs after future efforts. There are some blank spaces on your wall that could use some color.