I have two HF radios.  One is an older Kenwood TS-680S and the other a newer Yaesu FT-991A.  I could easily just stick with the FT-991A full time if it weren't for one pesky issue. Working 60M FT8 is a royal pain.
When giving Hams access to the 60M band the FCC chose to channelize the allocation. It's the only band with this quirk. Rather than trust that Hams will set their VFOs to the right frequency Yaesu sets up real channels that prevent any tuning mistakes.  But that means WSJT-X and other software that normally can control the radio's VFO can't because the radio handles tuning on the band differently.
That's where my old TS-680S comes in.  It's old, but a friend modified it years ago to open up the transmit range (I don't recall why). Even though this radio predates the Amateur Radio 60M band it's quite 60M ready.  So when I want to make 60M FT8 contacts I switch my antenna to the Kenwood and start making contacts.
But I'm lazy. Sometimes I'm not keen on switching out the antenna cabling in the back of the radios, even if it only takes a minute.  So I've repurposed an MFJ-1702C antenna switch to be a radio switch instead.  The two HF radios connect to the A and B "antenna" ports. The antenna connects to what would normally be the single radio port.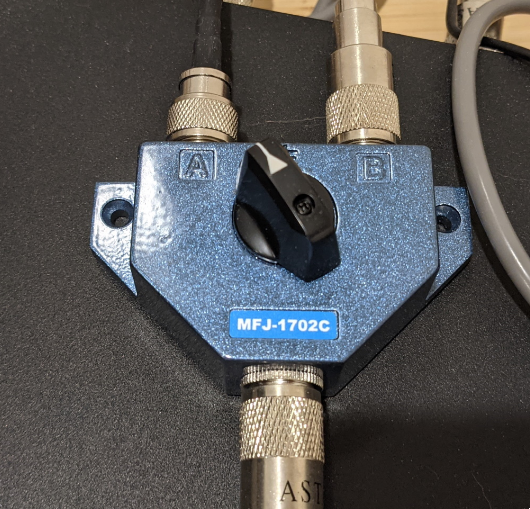 This is not a duplexer.  I will never attempt to use both radios at the same time. That wouldn't even work with how the switch functions.  I don't even have both radios powered up at the same time.  The switch provides an isolation level of 60dB to the port that's not selected and that radio is powered off.  So now I can switch to 60M in a snap without loosening and reconnecting cables in the back of the radios.