One of Amateur Radio's most popular awards is CQ Magazine's WPX Award. An Amateur can earn WPX by confirming contacts with a certain number stations with unique callsign prefixes. There are thousands of possible prefixes around the globe so it's one of the more open ended programs out there.
In the past collecting hundreds, if not thousands, of QSL cards and submitting them for credit was an arduous task. Recent developments, such as Logbook of the World (LoTW), have made this much easier. But what about easy and free? The FT8 Digital Mode Club (FT8DMC) has you covered.
FT8DMC's Worked Prefix Award (WPX) is a CQ WPX award synonym, but just for FT8 contacts. Amateurs can obtain the first award by working a mere 100 unique prefixes. This can be done easily even if one is limited to a modest station working stateside contacts. After that, one can chase additional awards marking higher numbers of prefixes (500, 1000, 1500, 2000, etc.).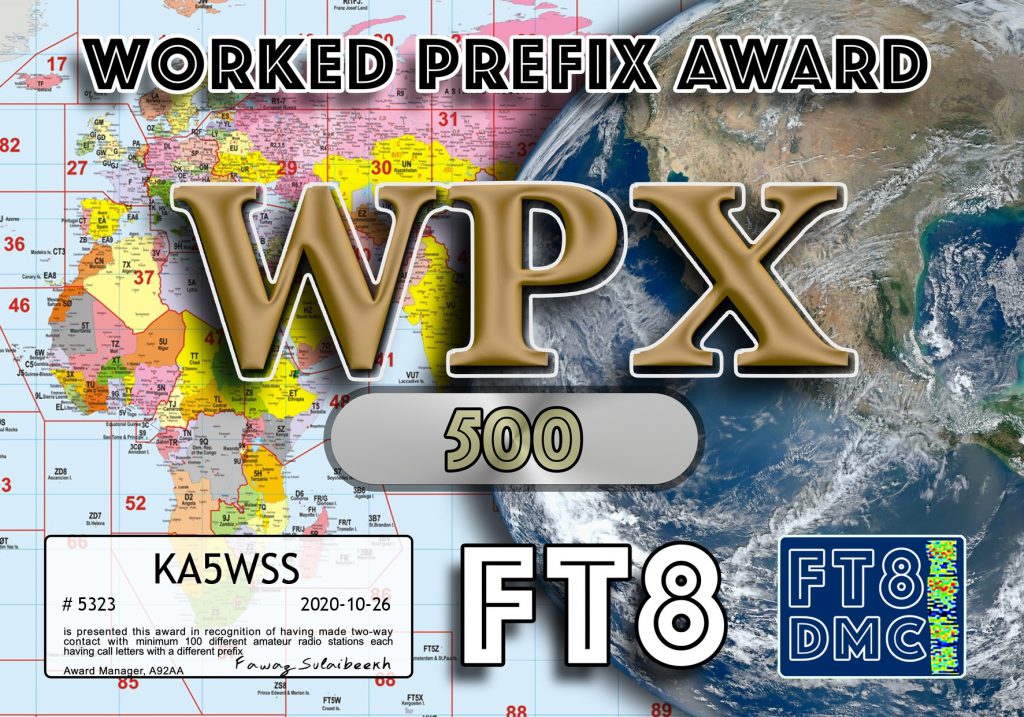 The basic award covers contacts made on all bands. Separately, FT8DMC offers awards for working prefixes on a single band. That's an additional 10 certificates to chase.
| | |
| --- | --- |
| 6M | 10M |
| 12M | 15M |
| 17M | 20M |
| 30M | 40M |
| 80M | 160M |
WPX Band Awards Available
FT8DMC presents WPX in digital form only (JPG or PDF) with no printing or shipping costs. In fact, the award is completely free, like all of their other awards.
But what about the pain of keeping track of and submitting information on hundreds of contacts? With FT8DMC's awards it's as simple as installing UltimateAAC on your home computer. Point the program to your WSJT-X log file and let it do the work for you. It will determine how many of your contacts are eligible for WPX (and their many other awards). When you qualify for the initial or follow up awards it will let you know. You can then apply for the award with a single click.