Are you still looking for a New Year's resolution for 2022? Learning something new is always a popular choice. The recently launched ARRL Learning Center provides an easy way to search for new topics to learn about and to keep track of what you've mastered as you go along. Yes, YouTube has an enormous number of Ham Radio videos from which to choose. But, it's not as easy to get a quick glance of what you've already seen and what you've queued up to see on the site. The ARRL Learning Center makes this easier.
To start, simply navigate to the learning center main page and log in with your ARRL website account credentials. I found that the site occasionally loses track of your login. When this happens just press the Account link on the top of the page and login again. Hopefully this is just a temporary quirk of the new system.

There are two types of content available. Webinars are single videos on a given topic without a testing component. These are divided into three main categories – On The Air, Emergency Communications and Electronics & Technology. On The Air webinars cover such topics as QSLing, digital modes such as FT8 and contesting.
Courses are videos which sometimes feature a short, simple test after videos. They typically include multiple videos which break up the content into bite size pieces. Course topics include Park on the Air, Emergency Communications and Satellites. Also included are Dave Casler's (KE0OG) popular online video series for the Technician, General and Extra examinations.
You can keep track of your progress for courses and webinars that you have started and finished watching. Each entry in the Courses tab on the account page provides a progress bar indicator. Note that all videos in webinars categories are treated here as a single "course".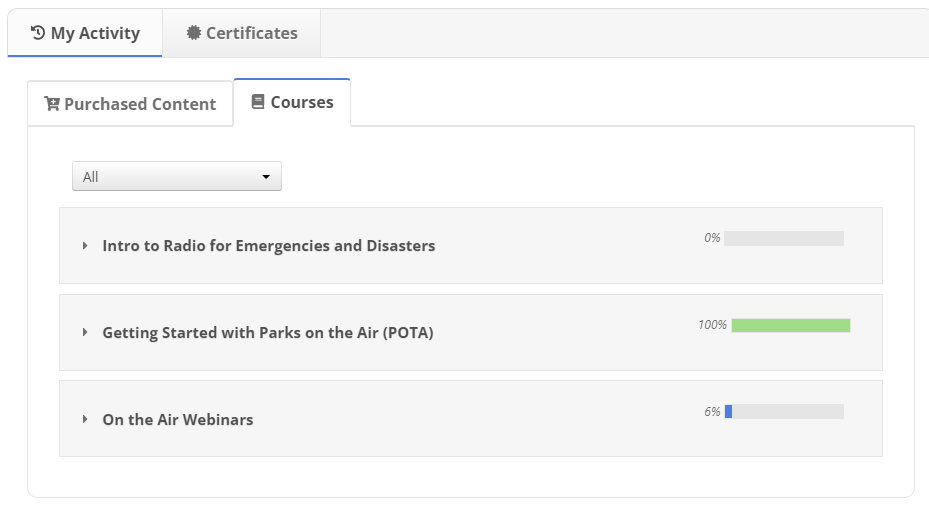 Finished courses (as opposed to webinars) may also have certificates of completion available for downloading: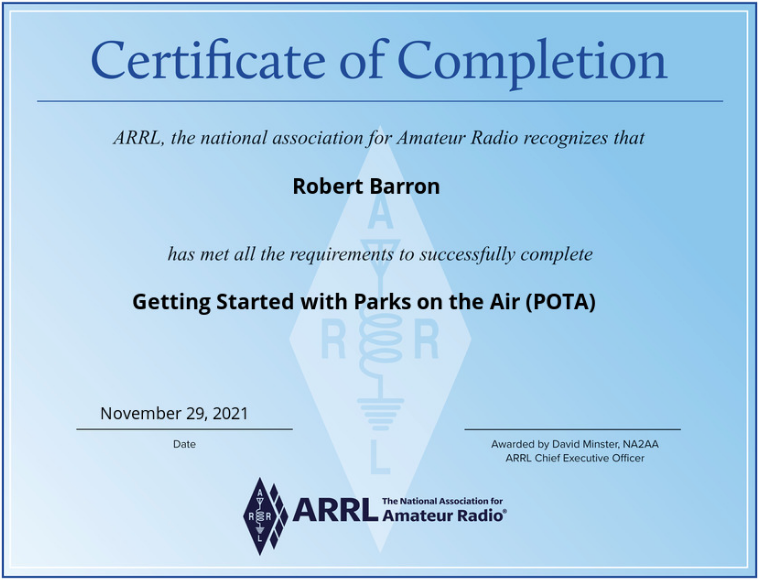 The League is expecting to expand the number of courses and webinars as it pushes Hams to start on a path of lifelong learning. As of this moment there are 20 courses and 30 webinars available for viewing. So fire up your browser to go learn something new in 2022. Then, just as importantly, fire up your radios and put your new found knowledge to practical use.