Flash: Hold off on sending in your outgoing QSL cards to the ARRL, at least until May 15th.
When I got more active in Amateur Radio recently I was a bit taken aback by the much higher rates for the ARRL Outgoing QSL Service. Having been licensed in 1985 I'm getting old enough to wax poetically about the "good old days" when a couple of bucks per pound was enough to shower the world with your QSL cards. I realize that inflation in general and shipping in particular have rising over the decades, but I was a bit shocked by the latest rates.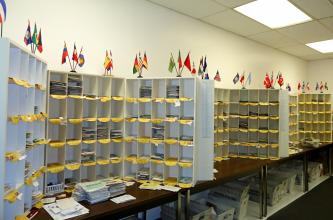 The march of progress has driven more people to electronic QSLing, including the ARRL's own Logbook of The World. I suspect the rising cost of postage is also having something to do with it.
I'm not sure if there was an outcry from members, but the ARRL Board recently voted to roll back rates for their popular QSL service to 2011 levels and I could not be happier. However, if you don't want to pay the higher rates you'll need to hold onto your cards a little bit longer.
Through May 14th 2019, the outgoing QSL rates remain $1.15 per ounce plus a $7.00 flat service fee. For one pound of cards (about 200ish) this amounts to $25.40. For stations who are making only a small number of DX contacts the service fee in particular was a bit of a burden.
Starting May 15th, the rates will be lowered to $0.75 per ounce with no service fee. However, to cover the overhead costs of much smaller batches there is a flat rate for some.
| | |
| --- | --- |
| Cards | Rate |
| 1-10 | $2.00 flat charge |
| 11-20 | $3.00 flat charge |
| 21+ | $0.75 cents per ounce |
For one pound of cards the new charge will be $12.00. You won't see many things this year with price cuts like that. Checks should be made payable to "The ARRL Outgoing QSL Service". Happy QSLing!
Note: These rates do not affect pricing (or lack thereof) for the ARRL's incoming QSL service. That remains free, with users only having to pick up the postage required to get their cards delivered.