I just received a new operating award, Grupo DX Cuba's the Diploma Caribe. To earn the award contacts must be made with a number of Amateur Radio stations around the Caribbean Sea.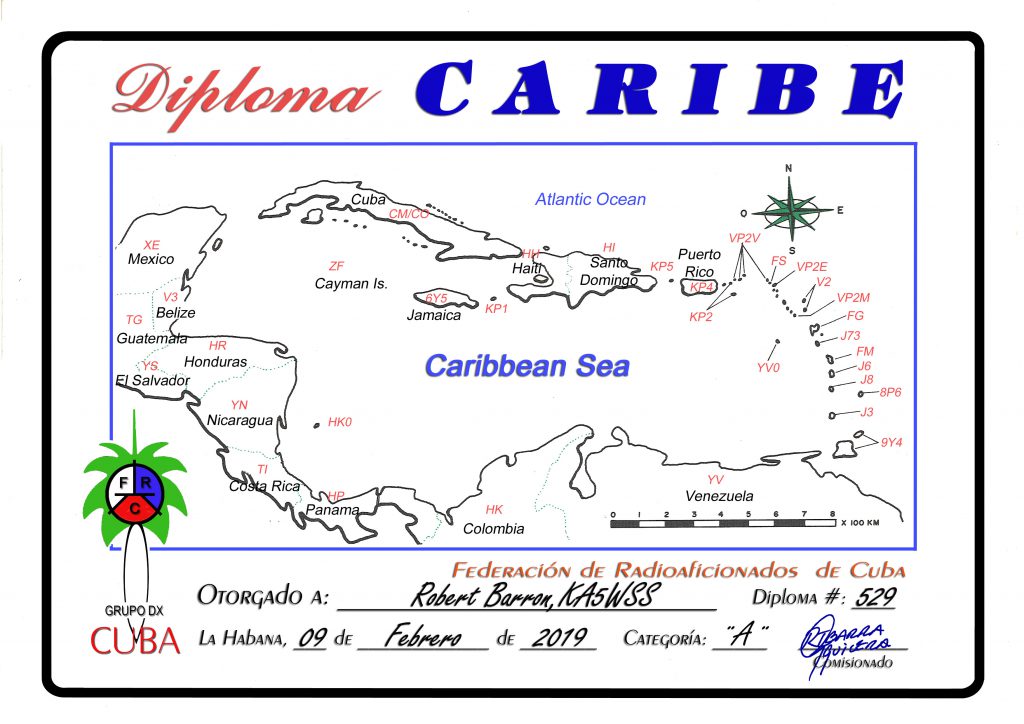 There are several classes of award, each requiring contacts with a number of unique countries. The different classes provide an easier and quicker path to participating in the award.
| | |
| --- | --- |
| Diploma Class | Number of Countries |
| A | 30 |
| B | 25 |
| C | 20 |
Countries in this case mostly conforms with the DXCC standard with the exception that Guantanamo Bay (KG4) contacts are not allowed.
Applying for the award was easy. The manager requires a GCR list, so no cards need be sent through the mail. The GCR list can be sent through email. They have a handy Microsoft Excel spreadsheet into which the contact info can be entered. It even keeps track of how many QSOs have been recorded.
The best part? The award is free! Like many other awards these days it's sent in electronic form (a JPEG file in this case), eliminating the expense of printing and mailing a certificate through the mail. This means if you have enough contacts to acquire a Class C award then go ahead and do so. You can always apply for the Class A award later on when you get those additional 10 countries.