As I have written in the past, my home station is very modest. Nearby neighbors and antenna restrictions mean no powerful antennas at home are in my future. I compensate somewhat for this by using modes such as FT8. Another way of coping is by using remote stations on RemoteHamRadio.com.
The problem in using WSJT (the most common software used for FT8) with both my own and remote stations is the differing configuration settings that must be switched. Just using audio settings as an example I need to remember to set these for my home station:

And then I have to set these for any remote station:

The audio settings are clear enough and nothing will work if they are not set properly. However, on more than one occasion I had to frantically stop transmitting when I realized I had not change the configured station grid square.
My situation is not unique but there are many other scenarios out there where changing configuration can be a pain. Club stations with many operators, households with more than one licensed Ham or a station with multiple radios and interfaces face the same dilemma.
Thankfully, WSJT provides a way to set up multiple configurations that can be switched in and out. Click on the "Configurations" menu option, select the Default config and then select "Clone".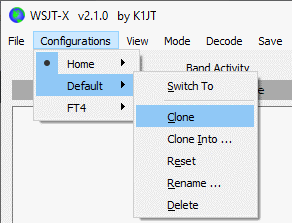 The cloned config will be called "Default – Copy". You can give the new config a meaningful name by clicking on it and selecting "Rename…". Then you can go back to that new clone and select "Switch To" to restart WSJT using that config. Now modify the configuration as needed for the remote station.
I have several configurations from which to choose in just a keystroke or two. In this case the names closely match the Remote Ham Radio sites I most use.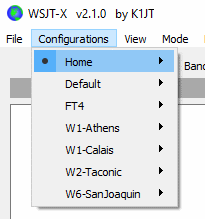 When operating the current config being used is displayed at the bottom of the screen.

This has been very helpful to me as I switch stations and I think it may come in handy for many others as well.