CQ Magazine's Worked All Zones (WAZ) is one of the oldest and most prestigious Amateur Radio operating awards out there. Working all 40 CQ Zones is arguably more difficult than working 100 unique DXCC countries. The 30 Meter Digital Group (30MDG) offers a easier, and cheaper, entry into chasing all 40 CQ Zones with their CQ Zone Award.
It's easier to get started with 30MDG's version of the award. You need only work 10 different CQ Zones to obtain the first version of the certificate. You can earn subsequent certificates by working 20, 30 and finally all 40 zones.
This award is also cheaper. Like their other awards, 30MDG issues the certificates in electronic form (PDF file) only. Lowest possible distribution expenses allow for the best possible cost. The awards are completely free!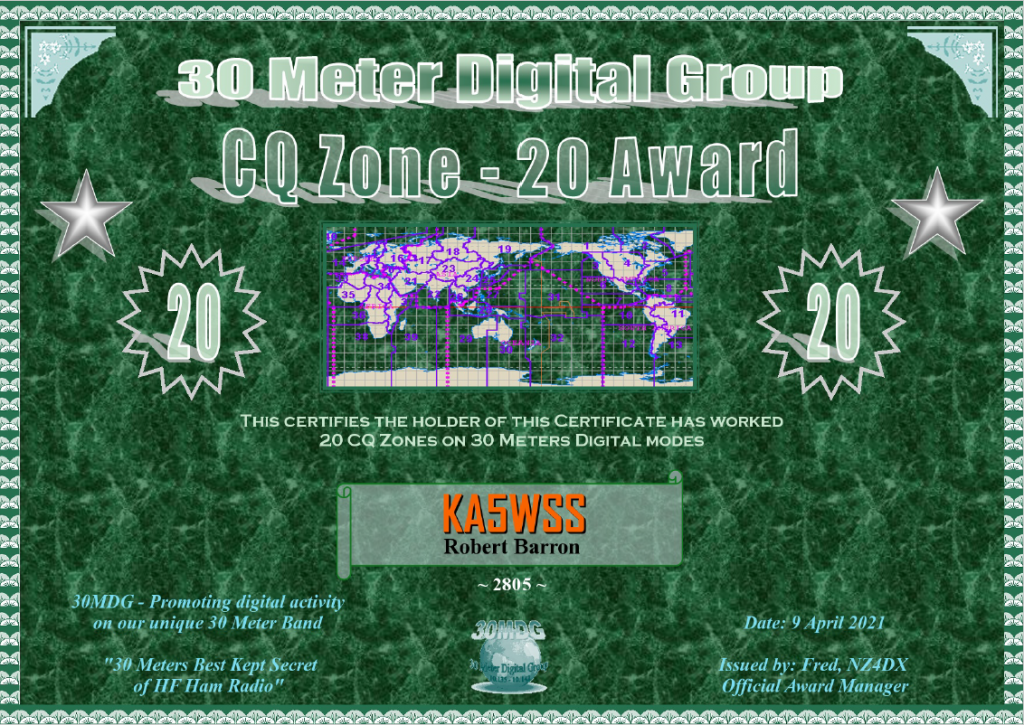 You might guess from the organization's name that the focus of their efforts is in promoting use of the 30 Meter Amateur Radio band using digital modes. All contacts for this award must be made between 10.100 and 10.150 MHz. You may use any valid digital mode to make valid contacts (RTTY, PSK31, FT8, etc.).
Applying for the CQ Zone Award requires the installation the UltimateAAC application on your machine. That application scans your WSJT-X ADIF log file and will inform you when you've qualified for various levels of the award. But you can use this application to apply for a long list of awards from a number of different sponsoring clubs.