Procrastination. when done well, is worth doing again and again. After years of working DX and having worked over 100 countries, I finally got around to applying for the DX Century Club award (DXCC)! Then, I allowed the certificate to sit around for months or maybe more than a year. Just recently I got it framed. My next step is to get it on a wall somewhere. I'll keep you posted on my progress.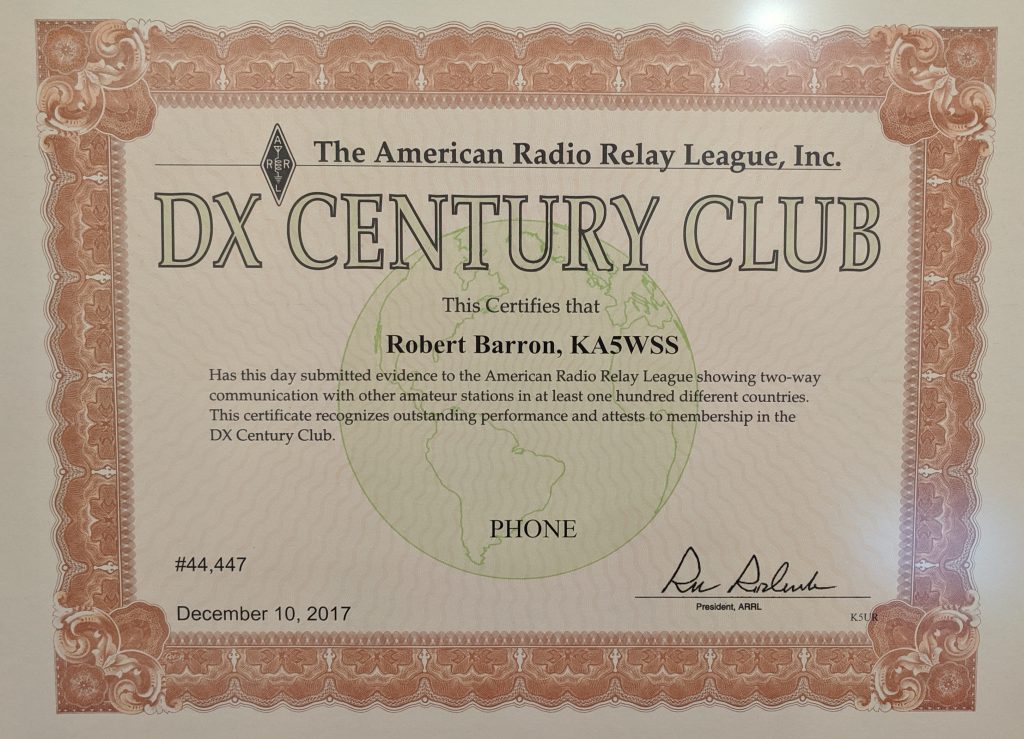 To qualify for the basic DXCC award an Amateur needs to make QSOs with Hams in 100 different "countries" and confirm each of them with a QSL card, or through Logbook of the World. Though I had over 100 countries overall for some time they were divided up between QSL cards and LoTW confirmations. Once I surpassed the 100 country mark on LoTW I pressed a few buttons and the DXCC Mixed certificate was on its way.
I also have a number of physical QSL cards that I need to get checked to apply against my DXCC totals.
The DX Century Club is sponsored by the ARRL and has been going on since the 1930's. It's one of the oldest, if not the oldest, Amateur Radio awards programs in the world.
The DXCC program is a large one with numerous versions of the base award (for both modes and bands) and endorsement stickers for country count. Award types include:
Mixed
CW
Phone
Digital
Satellite
Single Band (for most bands between 160M and 70cm)
5 Band (80M, 40M, 20M, 15M, 10M)
The fee structure for DXCC is complicated. As of 2019, the base cost of the award is $16.00 for ARRL members and $25.00 for non-members. But certificate fees ($12.00), a certificate shipping fee, additional fees for more than 101 cards submitted and more may all be required depending upon your application. Really, the only way to be sure is to go to the source. Applying via LoTW is easy, but the fees still pile up.
Nevertheless, DXCC remains one of the most popular and prestigious Amateur Radio awards programs in the world and the one award that many people who do not consider themselves to be award hunters continue to chase.