I just managed to finish off my second ARRL Amateur Radio logbook today while making some contacts in the RAC Winter Contest. The reason this sticks out for me is the date range of the QSOs contained in that logbook.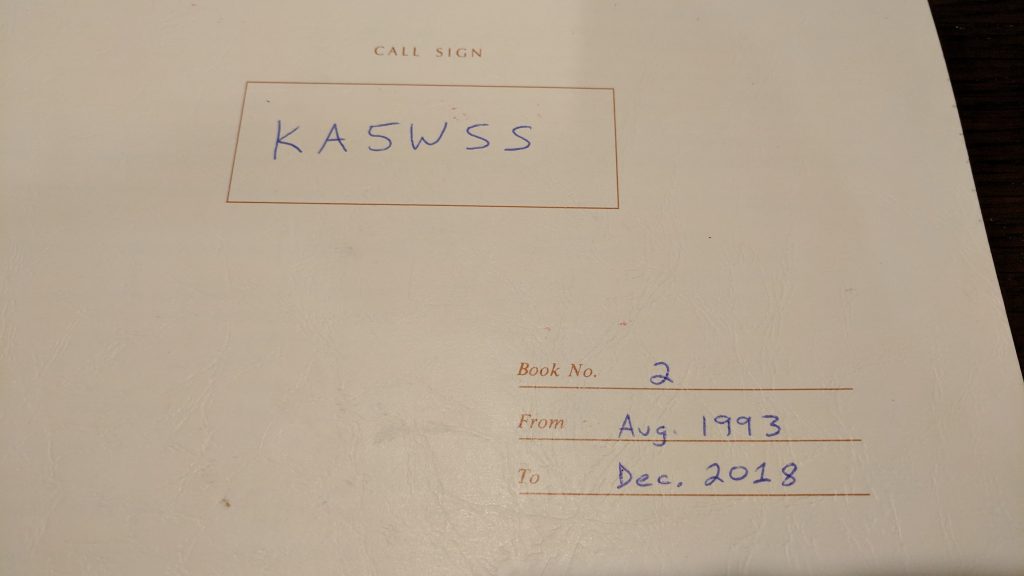 August 1993 through December 2018. That's 25 years between the first and last contact. I knew I had been relatively inactive for some time as work and family pressures ate up more of my time, but this large date range was a bit shocking to me.
My first logbook covered 1985-1993, a mere 8 years. These years included just getting started in Amateur Radio and my active years while a student at the University of Texas ARC station (W5EHM, now N5XU). The second logbook does have a few more pages than the first, but the time span is shocking. I hope my renewed interest means logbook #4 will not be rolled out in 2043!
Update (4/27/2020): It did not take me 25 years to fill up log book #3. It took me only a year and a half! Between December 2018 and April 2020 I managed to make as many contacts (well a bit of a caveat later) as I did in the previous quarter century. Having access to a working, though very modest, station that's visible to me every day goes a long way.
I base contacts here on those logged into my paper logbooks. When I was more active in contests in the past I made a large number of QSOs which were recorded in electronic form. So the comparison is not entirely consistent, though still I'm pleased with the new upswing.