I love maps. The FT8 Digital Modes Club's NZTD Award is issued for Amateur Radio operators who make contact with 6 or more New Zealand territories and dependencies. The award includes a nice map showing New Zealand and the surrounding dependencies whose contacts can be used for award credits. So that earns some extra points in my book.
New Zealand's influence covers a good portion of the Southern Pacific Ocean, as you can see on the award's map. You can use station callsigns to determine whether a given contact counts for an entity you have not yet contacted. The full list of entities includes:
| | | | |
| --- | --- | --- | --- |
| ZL1 | ZL2 | ZL3 | ZL4 |
| ZL6 (Special Event) | ZL7 (Chatham Island) | ZL5/ZL9 (Antarctica) | ZM (Special Event) |
| ZL8 (Kermadec) | ZK3 (Tokelau) | E5 (Cook Islands N & S) | E6 (Niue) |
NZTD Entities
According to the official NZTD page, the award comes in three levels, Bronze, Silver and Gold. Each higher level requiring contact with more territories and dependencies. The Gold level requires you work them all.
| | |
| --- | --- |
| Award Level | Territories and Dependencies |
| Bronze | 6 |
| Silver | 9 |
| Gold | 12 |
NZTD Levels
To apply for this award, and all other FT8DMC awards, you must install the UltimateAAC application on a Windows machine. That application scans your WSJT-X ADIF log file and will inform you when you've qualified for the award. It will even show you a list of contacts that have been counted for the award so you know what you're missing.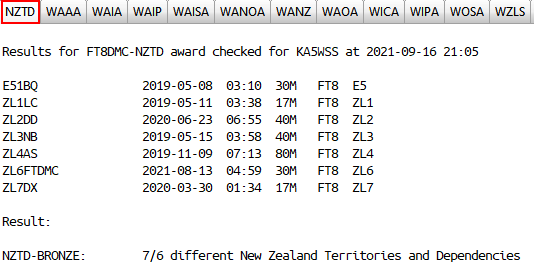 FT8DMC issues the NZTD award in digital form only (JPG or PDF) with no printing or shipping costs. In fact, the award is completely free, like all of their other awards.