Want a year long challenge? The State QSO Party Challenge provides a fun way to check out propagation and different modes to various spots in North America.

Years ago, state QSO parties were a bit more popular and active than they are today. The State QSO Party Challenge is trying to reverse this by encouraging more active participation in as many QSO Parties as possible.
Though the official title of the challenge is the State QSO Party, it is not limited to the United States. Canadian Provincial QSO Parties are also part of the formula.
QSO Parties
QSO Parties are mini-contests where each individual state, province or call area is the focus of attention over some weekend. Everyone around the world tries to work stations in the target area. Hams in the target area can work everyone.
Finding some of those last rare states or counties for operating awards can be tough. QSO Parties are helpful for finding stations in places like Delaware for Worked All States or all 254 Texas counties for the US Counties award.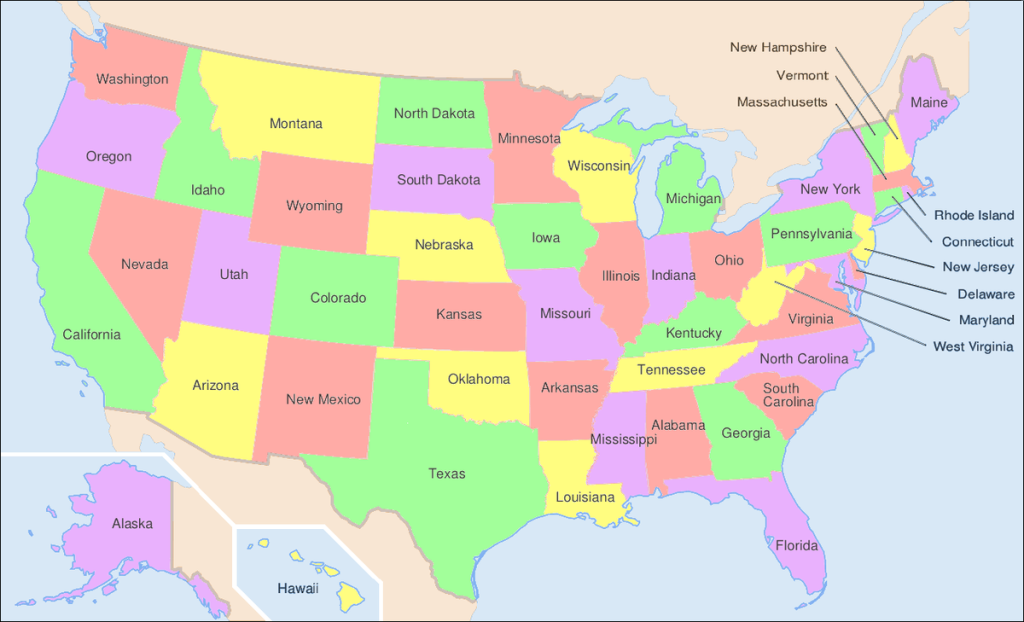 Though most QSO Parties publish suggested frequencies around which operations might congregate there are also technical tools to help you find stations. The DX Cluster certainly has plenty of spots, some of which mention spotted station's location. But there tends to be a lot of other spots to sort through. Alternatively, the QSO Party Spotting pages provide a contest specific way to search for, and report, stations for a given contest.
QSO Party Challenge
The challenge scores are calculated from the total number of contacts made in all QSO Parties multiplied by the number of QSO Parties (47 in total) entered. With multipliers based on the number of contests entered, there is a strong incentive to get active in as many QSO Parties as possible.
To count towards your total score you must make at least two contacts in any given QSO Party.
Why 47 and not 50 plus the number of Canadian Provinces? Not all states have stand alone QSO Parties. Some states participate in QSO Parties that group several states together, such as the 7th Call Area and New England QSO Parties.
Submitting Scores
There is a bit of work required to keep submitting scores for each QSO Party, but it's generally consistent and not too hard. First, I would suggest using computer logging such as with N1MM Logger+.
After a QSO Party, export your log into Cabrillo format, which is the standard format for Amateur Radio contest logs. Then visit the QSO Party's log submission page to upload the file. For example, the Minnesota QSO Party submit page might look something like this:

Then, you'll need to submit your score to the challenge as well. You do this by submitting summary information via the 3830scores.com website. Look for a link to the QSO Party in "current contests" or "recent contests" and click on the link. You should see a submission form that looks similar to this: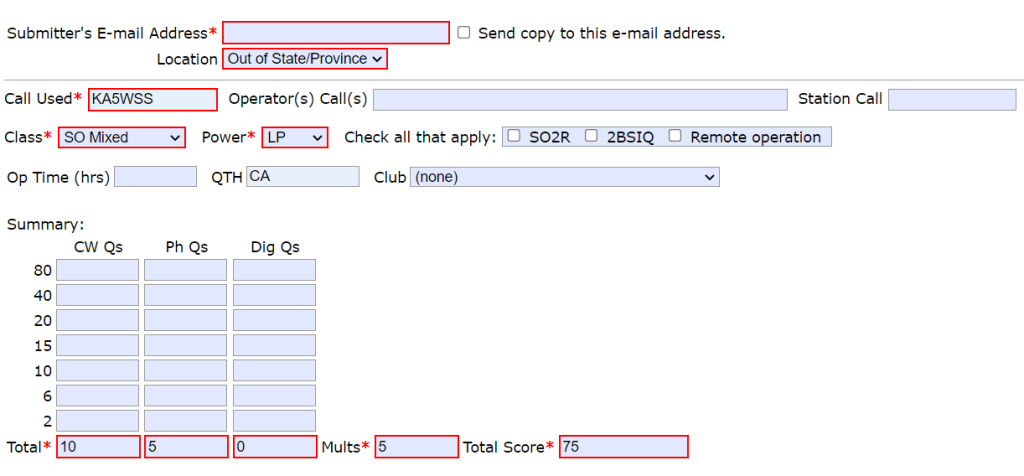 Fields outlined in red are required fields. The rest are optional. Submit the form and you're done!
Keeping Score
Once submitted, it won't take long for your challenge score to show up or be updated. On the 3830scores.com website, the challenge summary page can be sorted by callsign or score. As you can see from my score after 5 QSO Parties so far this year, I am not setting any records!

Note here the importance of participating in as many QSO Parties as possible. W4CMG and AI6O have more QSOs and over twice as many points in their submissions. But I have at least one more QSO Party under my belt than either. And that bumps up my challenge score.
The QSO Party Challenge's Leaderboard provides an alternate way to look at the current standings. The Google spreadsheet lists results first sorting by number of QSO Parties then by challenge score.
As each QSO Party completes you might find yourself eligible for a certificate or other prize. Top California QSO Party scorers receive a bottle of wine! In addition, the State QSO Party Challenge has their own certificate.