The American Radio Relay League's (ARRL) Worked All States Awards is one of the most popular Amateur Radio awards programs. There are more Hams who have attained WAS than have achieved DXCC status. The League runs a tight ship when it comes to their awards programs. If you'd like an easier entre into the goal of working all 50 US states then a synonym award offered by the FT8 Digital Mode Club could be the program you're seeking.
The requirements for the award are simple, work at least one station in each of the 50 states, all using the FT8 digital mode. Unlike some other FT8DMC awards, their Worked All States award is an all or nothing certificate. No awards are issued for partial success.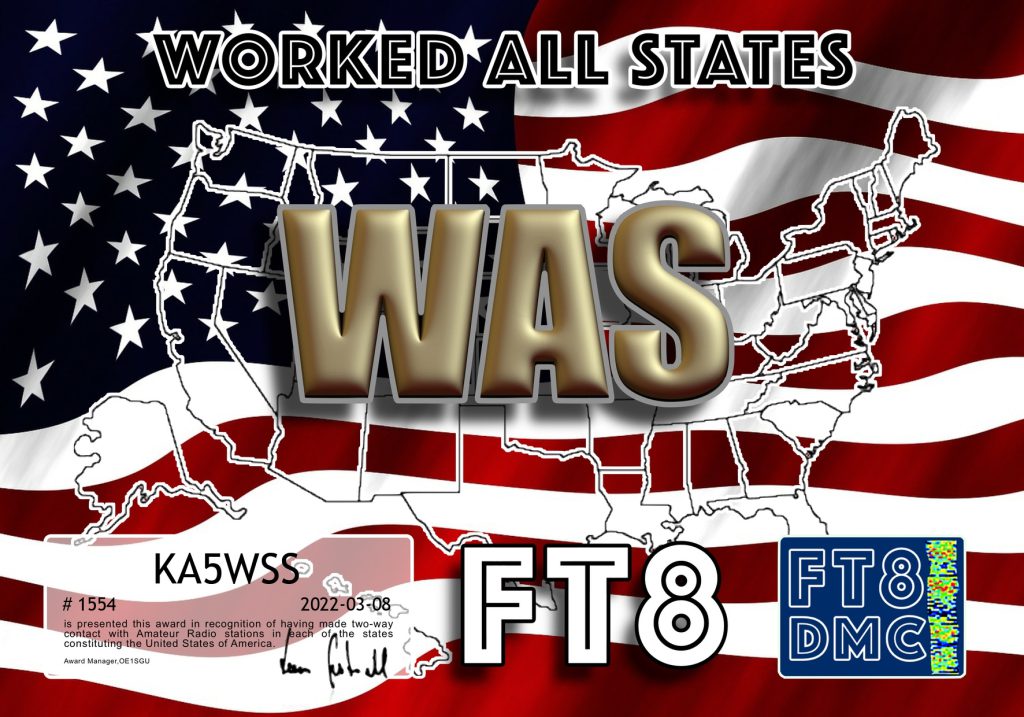 In addition to the standard all band certificate you can also chase separate awards for working all 50 states on a single band. The choices cover all bands from 160M through 6M. This includes the 60M band which may be of particular interest since the ARRL does not recognize 60M contacts for any of their awards. WAS on 60M can only be done via award synonyms such as this one.
For those looking to push things further one can also try for their 5 band WAS certificate that requires working all states on 80M, 40M, 20M, 15M and 10M.
To apply for FT8DMC's version of WAS, and all other FT8DMC awards, you must install the UltimateAAC application on a Windows machine. That application scans your WSJT-X ADIF log file and will inform you when you've qualified for the award at various levels. FT8DMC issues the award in digital form only (JPG or PDF) with no printing or shipping costs. In fact, the award is completely free, like all of their other awards.