CQ Magazine's Worked All Zones (WAZ) award is one of the oldest and most prestigious awards in Amateur Radio. To obtain the award one needs to work confirm contacts with at least one station in each of the 40 CQ zones spread all over the Earth.
Working and confirming 40 QSOs sounds easier than the 100 contacts required for an entry level DX Century Club (DXCC) award. But don't let simple numbers fool you. DXCC's 340 countries are spread unevenly and only a fraction of them need be worked to receive the initial award. Even a modest American station on the eastern seaboard has excellent access to Europe and North America. Both of those continents alone could be enough to get to DXCC.
With Worked All Zones, the entirety of the planet is covered and you have to work all of it. Which means you have to be able to make all corners of the globe. This includes harder to reach areas such as Southeast Asia, East Africa, Central Siberia, etc.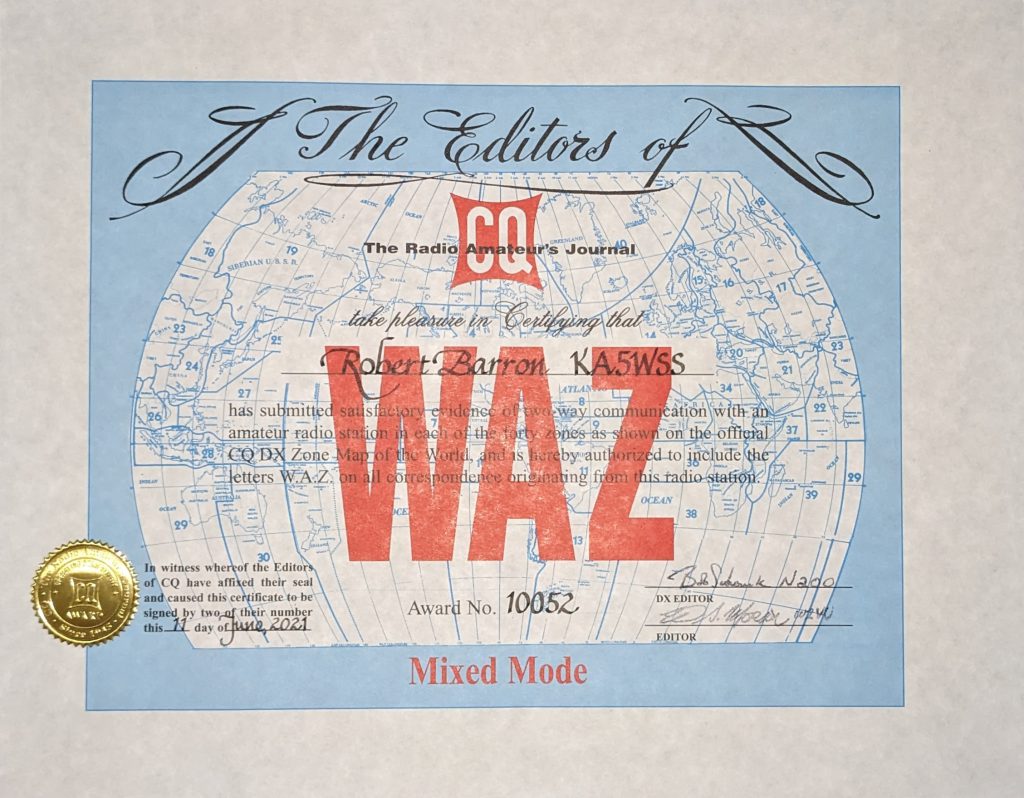 The Worked All Zones program is wide ranging and there's plenty to chase even beyond your initial certificate. CQ Magazine offers separate awards for each of the Amateur Radio bands from 160 through 6 meters, with the exception of 60M. In addition there are awards for the following operating modes:
| | | |
| --- | --- | --- |
| Mixed | AM | SSB |
| CW | RTTY | SSTV |
| Digital | Satellite | EME |
There is the special 5 Band WAZ for working all 40 zones on the 80, 40, 20, 15 and 10 Meter bands.
The easiest way to apply for WAZ is through the American Radio Relay League's (ARRL) Logbook of the World (LoTW) system. When using this method you don't need to acquire paper QSL cards from the stations worked. It also means you won't need to send them via mail and risk having them lost.
The cost of the award varies depending upon the method used to submit your application and which of the award types is being requested. The base WAZ certificate costs $6 for CQ Magazine subscribers and $12 for non-subscribers. If you submit cards instead of utilizing LoTW you also need to supply sufficient postage for the return of your cards. This can run from $6 to $27, depending upon the shipment type and your location. It's best to refer to the official WAZ rules for the latest information.