The European Ros Club (ERC) issues the Diplomas Distritos EA Award to Radio Amateurs who make digital contact with one other Ham operator in each of the 9 call areas of Spain. Call area EA0 is either not used or only issued for special occasions.
When thinking of the country of Spain from an Amateur Radio point of view it's easy to miss out on the fact that this country counts for more than a single DXCC entity. In fact, if you work all of the Spanish call areas you'll end up making contact with 4 different DXCC entities on two continents!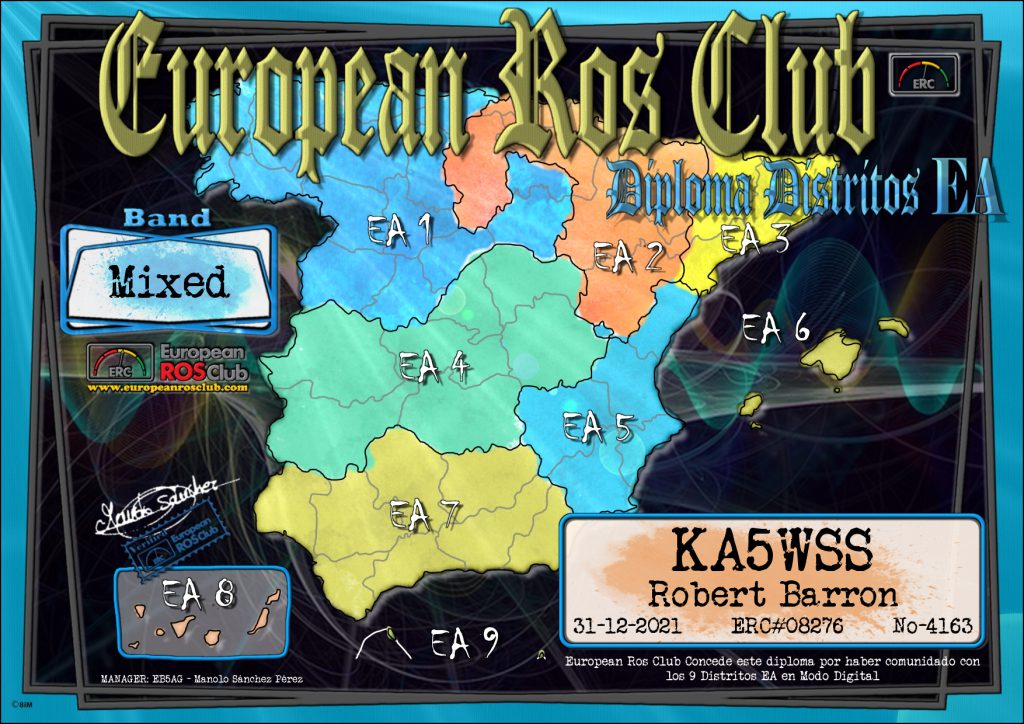 The award features a stylized view of Spain, showing each of the 9 call areas worked. EA6 represents the Balearic Islands in the Mediterranean Sea, EA8 is for the Canary Islands off the Atlantic Coast of Africa and EA9 is assigned to the small enclaves of Ceuta and Melilla on the north African mainland.
In addition to the standard award, which allows for contacts on any given band, you can also work towards certificates on a number of HF bands, 6M and 2M. Thus, there are actually 12 different awards to which you can aspire.
| | | | |
| --- | --- | --- | --- |
| Mixed | 2M | 6m | 10M |
| 12M | 15M | 20M | 30M |
| 40M | 60M | 80M | 160M |
To apply for the Diplomas Distritos EA, and all other ERC awards, you must install the UltimateAAC application on a Windows machine. That application scans your WSJT-X ADIF log file and will inform you when you've qualified for the award at various levels. ERC issues the award in digital form only (JPG or PDF) with no printing or shipping costs. In fact, the award is completely free, like all of their other awards.