The Worked All New Zealand Award indicates that an Amateur Radio Operator has made a given number of FT8 contacts with the four call areas of New Zealand proper. The FT8 Digital Mode Club (FT8DMC) is the sponsor of the award.
There are four call areas present in the two main islands of New Zealand. A differing number of contacts must be made with each, presumably proportional to their respective populations. For this award, that means making 4 contacts with ZL1 stations, 3 contacts with ZL2 stations, 2 contacts with ZL3 stations and a single contact with a ZL4 station.
Note that this award does not require any contacts with rarer New Zealand territories such as Chatham Island (ZL7), Kermadec Island (ZL8) or Campbell Island (ZL9). This greatly lowers the bar of entry for the award.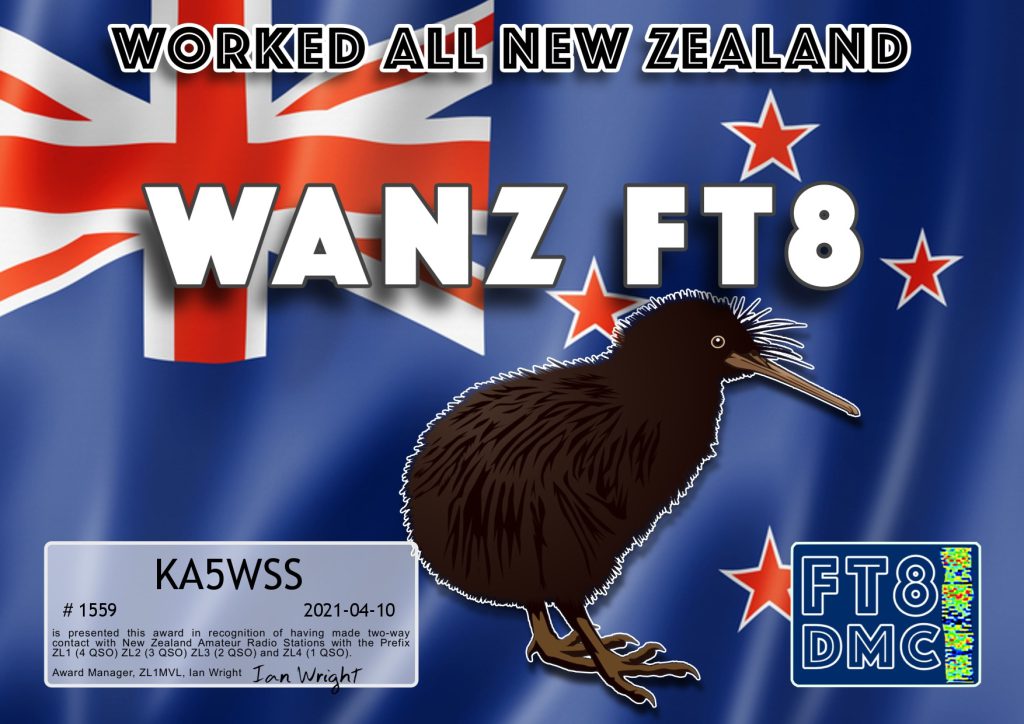 In addition to the standard award, which allows for contacts on any given band, you can also work towards WANZ certificates on a number of HF bands and 6M. Thus, there are actually 11 different awards to which you can aspire.
| | | | |
| --- | --- | --- | --- |
| All | 6M | 10M | 12M |
| 15M | 17M | 20M | 30M |
| 40M | 80M | 160M | |
To apply for the Worked All New Zealand Award, and all other FT8DMC awards, you must install the UltimateAAC application on a Windows machine. That application scans your WSJT-X ADIF log file and will inform you when you've qualified for the award at various levels. FT8DMC issues the award in digital form only (JPG or PDF) with no printing or shipping costs. In fact, the award is completely free, like all of their other awards.