The American Radio Relay League's DX Century Club Award (DXCC) remains one of the most prestigious certificates in Amateur Radio. Many Hams who do not consider themselves award chasers nevertheless chase that particular piece of paper. Obtaining DXCC can be a bit pricy though. Are there more economical choices?
The FT8 Digital Mode Club (FT8DMC) has their own version of the DXCC award, called the One Hundred Countries Award (OHCA). The focus of this award is on the popular FT8 mode.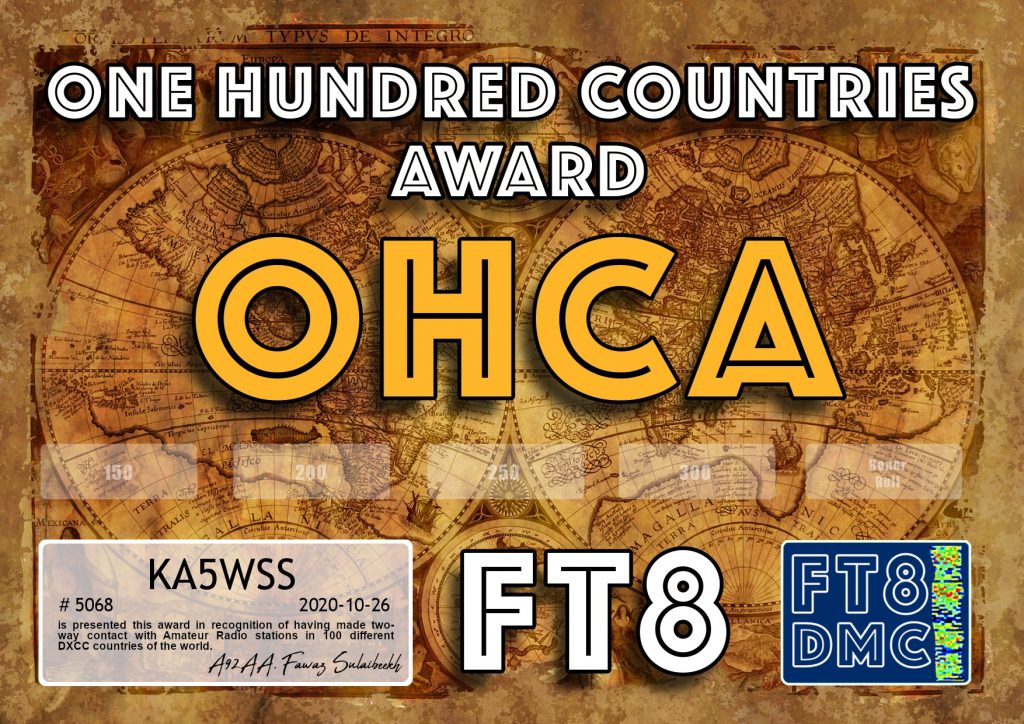 Like DXCC, all contacts must be made from the same DXCC entity. There appear to be no endorsements for more than 100 countries but there a number of band endorsements available.
| | |
| --- | --- |
| 6M | 10M |
| 12M | 15M |
| 17M | 20M |
| 30M | 40M |
| 80M | 160M |
OHCA Band Endorsements Available
FT8DMC presents OHCA in digital form only (JPG or PDF) with no printing or shipping costs. In fact, the award is completely free, like all of their other awards.
One must install UltimateAAC to apply for this and all other FT8DMC awards. That application scans your WSJT-X ADIF log file and will inform you when you've qualified for the award.