One of my earliest awards was the All Japan Districts award, sponsored by the Japan Amateur Radio League (JARL). Only requiring 10 contacts, it was relatively easy to achieve. It didn't hurt that it seemed there were even more Japanese stations on HF in the 1990's when I earned it. Compared to some stateside awards it was a bit exotic.
Fast forward a couple of decades and I was able to chase the goal once again, this time using the digital mode FT8. The FT8 Digital Mode Club (FT8DMC) offers the WAJCA award for making FT8 contacts with a station in each of the 10 call areas or districts of Japan. That makes it a digital award synonym of AJD.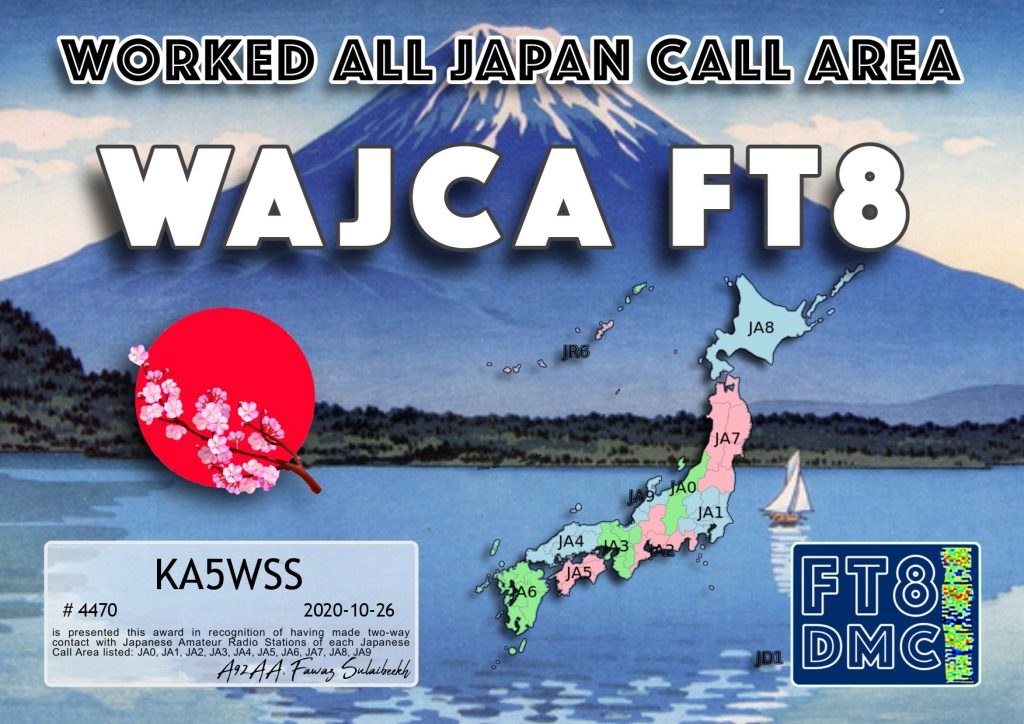 The award is delivered only in digital form. The attractive design features a map of Japan showing the 10 call areas, Mount Fuji and a Japanese Cherry Blossum.
In addition to basic award there are special versions for working all 10 districts on a single band. It's a single award that allows for multiple goals. Like all other FT8DMC awards they are totally free!
Applying for WAJCA FT8, and other FT8DMC awards, requires installing UltimateAAC. It's an application that scans your WSJT-X ADIF log file and can tell you whether you have made the required contacts for the award.